So you've finally decided it's time to man up and bulk up? There's a hoard of options at your disposal, but have you considered checking out the body beast schedule yet?
Perhaps you have, but couldn't figure out how to make the most of it, or this is a new one to you and you don't even know where to start. Chances are, that's how you ended up here.
Whichever the case, you're in luck! In this post, I will be going into details about what this program is all about, and what's in it for you. Well, let me just say we'll be exploring the good, the bad, and the ugly.
Ready? Let's get it on!
What is the body beast Workout Sheets?
Before diving into the juicy bits, let me clear the air a tad on what body beast calendar is and what you should expect. This is a workout program by Sagi Kalev, a popular fitness trainer and a renowned pro bodybuilder. The program is fine-tuned to merge some old school weight lifting approach with modern, advanced bodybuilding techniques.
This makes it best suited for individuals who are on the lookout for a way to get ripped with the use of weights, or those that want to stock up on muscle mass.
To cut right to the chase, this program takes all the confusion, guesswork, and trial and error out of your bodybuilding efforts, and gets you laser-focused on your goals.
How does body beast calendar works?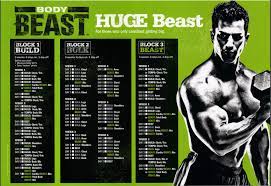 Most people seeking to build that manly bulk takes the beaten path, go grab a set of dumbbells, or grind out some serious cardio workouts. This might take a while before you realize any significant results.
Now, body beast drills down onto targeted workouts to take you on the fast lane to a sculpted body in a matter of 90 days, which is pretty fast in the bodybuilding sphere.
It all comes down to the cutting-edge science and the outstanding exercises included in the program, but there's also your part to play.
You need do is stick to the body beast calendar and combine it with a body beast eating plan, both of which have everything you need to get rolling right out of the gate.
The sessions are not too long to be boring; they last for about an hour or so. But the real deal is in the focus to give you the best results out of each of them.
Is this program effective?
Just like any other workout program out there, this one too has its upsides, and of course, a few shortcomings as well (we'll get into those later on.) But as far as being effective, yes, you should see results in good time. That is, if you stick to the body beast calendar workouts and diet accordingly.
Some of the benefits that you can reap with this program include the following.
It's an awesome way for working on your strength and sculpting muscles
It is an effective weight lifting and training option
You will certainly see results with the different schedules
It is a great option to take matters to the next notch if you are fond of lifting free weights
The body beast calendar
I know you've been looking forward to this part. What is this calendar and how does it come into your workout efforts? To put it simply, this is a breakdown of what you need to do each day, and it spans the length of the 90 days needed for the program.
Mostly, this branches into two options that you can decide to stick with depending on your needs and goals. There's the Body Beast Huge workout schedule and the Body Beast Lean schedule.
In each of these options, you will be able to target different sections of your body, which I will list in more detail in a moment. But the most important takeaway here is that you can still work the whole of your body with both.
And no, finding the calendar doesn't have to be a hassle, with a body beast workout schedule pdf, you can download the entire schedule and get to work in no time. Calculate your tdee during this workout plan for better results
The Dynamic Set Training; What the heck is it?
If you have scratched the surface on body beast training, then you've probably come across the term dynamic set training.
While this might have seemed insignificant, I'd like to let you in on a little secret — it's the secret formula that sets this program shoulder-high above other programs. With Dynamic Set Training, you are running on a combination technique that strains your muscles with pre as well as post fatigue phases to rip your body fast.
Don't get it twisted though, this isn't to say you have to push yourself to the breaking point with each session.
You have two options to go by with the dynamic sets, too! The progressive set and the force set. Let's dig deeper into each of these and see what sets them apart.
The Progressive Set
This set hinges on the different weights as well as rep limits to tap into your natural fatigue progression for muscle growth. The starting threshold is 15 reps with low weight, and then you reduce the number to 12 while increasing the weight to counterbalance the reduced reps. Eventually, you will only need to hit just 8 reps, but with a significantly higher weight.
With that set done, you break for 90 seconds and reverse it starting with the 8 reps with the high weight, proceeding to 12 reps with lower weight, and max out at 15 reps with the lowest weight. It might sound easier this way, but it's sure going to make your muscles feel the heat.
Force set
With the force set, you do a static hold where your muscles are best employed in the move. A case in point is when doing the shoulder presses, where you do 5 presses, and hold your weight momentary at a 90-degree angle with the muscles most activated, and then proceed to do 5 more presses without any rest in between.
This rather unorthodox execution of the moves is what makes dynamic set training the go-to option and mainstay for individuals who are looking for the fastest results.
The workouts
With body beast, you have three different types of workouts that will give you the chance to work your way up to that sculpted body. These are the build workout, the bulk workout, and the beast workout.
Build workouts
This workout is designed to target several parts of your body, so let's go through the different parts you get to work with the build mode.
The back: This is the longest workout, and that's probably because it targets several complex muscles. you'll also need equipment for this one, such as a chin-up bar, a workout bench, a stability ball as well as a curl bar.
Muscles worked: you get to work your biceps, rhomboids, lats, and traps.
Chest: Lasting for about 49 minutes, it's the second-longest in this phase, and comes includes some advanced workout techniques like giant sets. you will also need some equipment for this one as well, including dumbbells, a stability ball, or a workout bench.
Muscles worked: you will be employing your triceps and chest muscles.
Legs: This one takes 38 minutes, and focuses on strengthening your leg muscles. you will need such equipment as a curl bar, weight plates, dumbbells, and stability ball.
Muscles worked: you will be working such muscles as calves, glutes, quads, and hamstrings.
Shoulders: you will need 38 minutes for this section too, and it helps build stronger and more sculpted shoulders. you will need equipment such as a curl bar, weight plates, dumbbells, and a workout bench.
Bulk workouts
With the bulk workout phase, you will be focusing more on your arms and not on the combination of several parts including the back and chest. you will have several workouts to go by here too.
Back: This takes 29 minutes, and focuses mostly on training aimed at hypertrophy. You will need some equipment for this workout too, along with doing several force sets.
Chest: It lasts for 30 minutes, with a wider range of workout techniques than you would do with the build workout. These include some progressive sets as well as exercises that might target your chest muscles. You will need some equipment for this workout, such as a set of dumbbells, a stability ball, and a workout bench.
Shoulders: You need 35 minutes for this one, and it's cut out to give you the ultimate hypertrophy for your anterior, posterior, as well as lateral shoulder muscles. And just like most others we've looked at, you'll also need equipment like a set of dumbbells and a weight bench.
Legs: For the leg work out, you will do 40 minutes of advanced training techniques such as supersets, progressive sets, and force sets. It's designed to burn fat and build lean muscles.
Arms: This will take you 36 minutes, and includes a combination of most of the techniques used in other categories in this section for stronger, lean bicep and triceps muscles.  The equipment you might need for this workout includes a workout bench, dumbbells, as well as a curl bar with weight plates.
Body Beast workouts Sheets
By now, you will have the foundation you need to take on the beast workout, and this one takes your muscle-building efforts to the next level. you will be targeting several sections of the body here too.
Cardio: you will do 30 minutes of cardio, aimed at burning fat and enhancing your muscle definition.   you will need such equipment as a set of dumbbells and a workout bench.
Abs: With abs, you will need 11 minutes of short yet intense workout. This workout is focused on strengthening your core, which you'll need for other exercises, and achieving an overall better posture. The equipment you'll need for this workout includes dumbbells and a training mat.
Total body workout: Lasts for 39 minutes, and calls for use of a full range collection of workout equipment, from a workout bench to a stability ball, a chin-up bar, resistance bands, and dumbbells.
Body beast meal plan
The workouts aren't all there is to the body beast program, it also has the nutritional side, which is every bit as essential in your bulking efforts.
The eating plan has 5 to 6 meals each day, and you also get several health supplements including the Beachbody Fuel Shot, Beachbody Hardcore Base Shake.  You can use these as an energy boost for your pre-workout needs. Make sure to drink enough water too; JUST Water states that bodybuilders or athletes need to up their intake of water and drink at least a litre of water for every 1,000 calories burned.
How much is the cost?
Now that you've seen your side of the bargain, it's time to look at what you will need to part with to get started with this workout program. I'll break this down into individual packages to make it easier for you to grasp.
One of the packages you can get is the Base Kit, which goes for $49. What's in it for you? It's a worthy deal really, with the training in 4 DVDs, a Book of the Beast workout plan, a training schedule, as well as the Eating Plan.
However, if you don't want to buy the physical kit you don't have to. You can instead access the workout as well as the nutrition online. All you have to do is sign up as a member and get access to the following:
Every needed Beachbody workout
More than 600 workout programs
The meal plan and recipes
A personal coach
Fitness guide and a workout calendar
Access to fitness and nutrition experts
You can also go for an even more affordable 3-month membership with a 14-day free trial, at a cost of just $39. Then there's a 6-month plan going for $59, or a 12-month plan at $99. Your call!
The Body Beast Workout — in a nutshell
So, if you're thinking of giving this program a try, here's a rundown of the program features and perks to expect:
Up to 12 workouts, neatly split and spread out
Book of the Beast, a training schedule, and supplement/nutrition guide are a welcome addition
It hinges solidly on the Dynamic Set Training
Enhances your testosterone production, leading to better development for your muscle mass
It lives up to the hype; you can gain up to 10 pounds in 90 days
It's geared towards weight gain rather than weight loss, so if you want to bulk up, this one's for you
You can set a solid foundation for weight training and improve your training from here on out
Any issues?
As is the case with any other workout program out there, for every cool bit there's probably going to be a downside. And although I didn't spot many bummers with this one, I noticed a couple of bits that I didn't like very much.
Besides purchasing the program, you have to spend money further down the road getting the different equipment needed for the workouts, which can be inconvenient for beginners. But the cost can be thought of as an investment as you will not be needed to go out and spend a ton of money on home gym equipment like you would with other programs. You can still stay on the cheap as all you will need is a workout bench, a training mat, a decent pair of budget dumbbells like these, and a select few other pieces of equipment can all be had for cheap and still provide you with everything you need.
The diet required of you during the workout should have a high amount of calories, and this could easily lead to weight gain that doesn't necessarily convert into the lean muscle mass you want.
The wrap-up; Should you get the Body Beast Workout?
While this is a great workout program overall, there are a few instances in which I won't recommend going with it.
First, this program is focused on helping you gain muscle mass, which comes with weight and size increase. So if you are looking to lose weight or you just want to maintain your current size, then it might not be the best choice for you.
That said, it's an awesome option if you are on the hunt for some aggressive strength training, it helps achieve results in good time, which is pretty cool. For those who want to achieve results fast, and are ready to throw in the effort, go right ahead and check it out.
Related article: What muscles do lunges work?