We'll share all the information you need to handle typical situations in this thorough first aid manual successfully. This article is a great resource, whether you're a parent, a caregiver, or want to be ready for unforeseen circumstances.
We will cover all first-aid techniques, in detailed instructions and helpful pointers, for everything from cuts and burns to fractures and choking. Our user-friendly method ensures that anyone can easily pick up and use these life-saving techniques regardless of medical training.
You will be assured that you are acquiring reliable information as this handbook contains crucial information supported by credible medical advice. In addition, we have included the most recent studies and best practices, ensuring that you will be knowledgeable about the most recent first-aid procedures.
Our objective is to empower you to have the confidence to act in a way that ensures your well-being and the safety of the people around you. So join us as we learn first aid practice while developing the crucial skills that could be the difference between life and death in an emergency.
Why first aid knowledge is essential
Everyone must know how to do basic first aid as it could mean a life or death difference during an emergency. Medical emergencies and accidents can occur anywhere, at any time, and being prepared to act quickly can significantly improve the odds of a successful outcome. Being prepared and knowledgeable about first aid allows you to act promptly before professional help comes, perhaps saving lives.
You can assess the situation and provide the necessary assistance and reassurance to those that need it. Reducing worry and anxiety can make things simpler for everyone involved. Quick first aid help can stop further injuries or consequences.
Not only medical emergencies require first aid knowledge. It may also be applied to common circumstances such as minor illnesses, accidents, or injuries at work, school, or home. You can give immediate relief and stop the situation from worsening by knowing how to treat common injuries and illnesses. Everybody should know how to administer first aid.
The basic first aid principles
Several fundamental rules should be followed when giving first aid. You can confidently treat the injured or unwell person using these rules. Continue to discuss these ideas.
1. Evaluate the situation; Prioritize safety by assessing the surroundings for any hazards or risks before providing first aid. If the case seems unsafe, securing yourself and waiting for expert assistance is essential as your being matters.
2. Safeguard yourself and the injured individual; Use masks and gloves to prevent any transmission of infections or diseases. Offer comfort to the person ensuring their well-being remains a priority.
3. Check for responsiveness; Determine if the person is conscious and responsive. Gently tap their shoulder. Ask if they are okay. If there is no response, seek help immediately. Initiate CPR if necessary.
4. Request assistance; promptly contact emergency services for help. Provide details about the case. Follow their instructions until help arrives. If needed, ask someone to make the call while you provide aid.
5. Administer appropriate care; Once you have assessed the situation and professional help arrives, provide care based on the nature of the injury or illness.
Remember that these recommendations may differ based on the exact scenario. Always emphasize your and the wounded person's safety and well-being when administering first-aid.
Understanding the ABCs of first aid (Airway, Breathing, Circulation)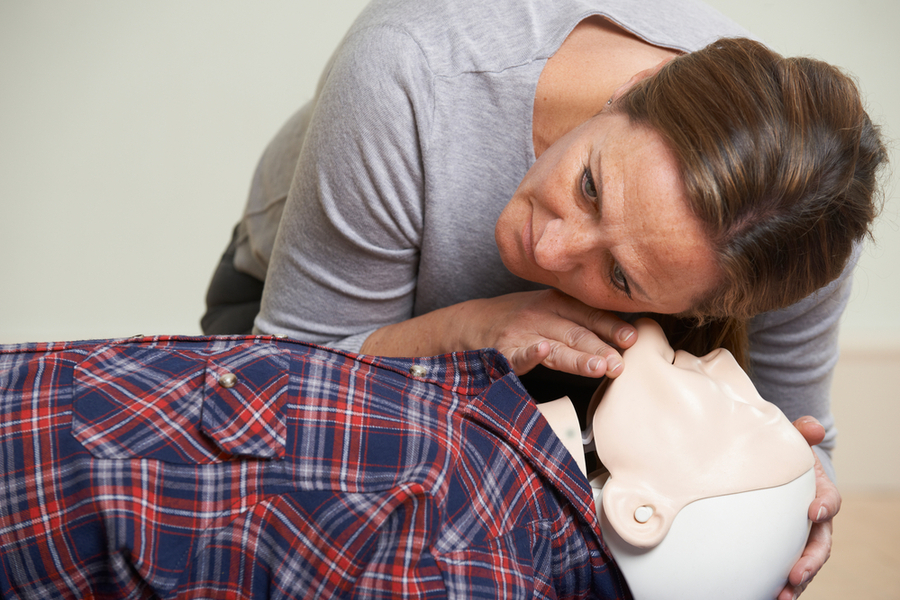 You must know the first aid ABCs (Airway, Breathing, and Circulation). These three elements are vital to life's survival and should be assessed and appropriately handled. Let's discuss each component in more detail.
1. Airway: The airway is a passage through which air enters and exits the lungs. To breathe properly, it must be clear and unobstructed. If the airway becomes partially or fully obstructed, it must be loosened to allow air to pass. Open the airway by tilting the person's head and elevating their chin. In some circumstances, Clearing the airway may require removing any obvious obstructions, such as foreign items or vomit.
2. Breathing: The process of inhaling oxygen and expelling carbon dioxide is called breathing. The body must receive an adequate supply of oxygen. If the injured person is not breathing or having difficulty breathing, immediate assistance is required. This may entail giving rescue breaths or doing CPR (cardiopulmonary resuscitation).
3. Circulation: The blood movement throughout the body, giving oxygen and nutrients to organs and tissues, is called circulation. Circulation is affected if the heart has stopped or if the person is experiencing severe bleeding. In such circumstances, CPR and bleeding management are essential in maintaining circulation and preserving life.
Knowing and evaluating the ABCs of first aid gives you the assurance and preparedness to react appropriately in an emergency. If any of these are compromised, quick action is needed to ensure the person's survival.
Typical first aid situations and how to handle them
We will discuss everyday first-aid situations and provide detailed instructions on managing them. Cuts, burns, wounds, fractures, sprains, and other injuries are included in these instances. You can provide prompt and efficient care by adhering to these suggestions.
First aid for cuts, burns, and wounds
Cuts, burns, and wounds are common injuries that require immediate attention. Here's how you can provide first aid in these situations.
1. Cuts: First, To remove any filth or debris, clean the wound with clean water and soap. To stop bleeding, gently press the area with a clean towel or sterile gauze. Apply an adhesive bandage or sterile dressing to the wound once the bleeding has stopped. Look for signs of infection, including increasing redness, swelling, or pus around the site.
2. Burns: To lessen discomfort and stop more damage from occurring after mild burns, place the injured region under running water for at least 10 minutes. Ice or icy water should not be used as it can lead to frostbite. To protect the burn, apply a sterile dressing or a non-stick bandage. Seek quick medical assistance if the burns are more serious.
3. Wounds: Clean the wound with mild soap and water to remove filth or debris. To gently pat the skin dry, use sterile gauze or a clean cloth. Get medical help if the cut is deep or gaping. Apply an adhesive bandage or sterile dressing to tiny wounds to prevent additional contamination.
Always remember to wash your hands after offering first aid for any injury. As a result, infections will be less likely to spread.
First aid for fractures and sprains
Fractures and sprains are often the result of falls, accidents, or sports-related incidents. Here's what you can do initially to provide care for these injuries.
1. Fractures: If you suspect a fracture advise the person to stay and avoid moving the affected limb. Provide the injured area with a splint or improvised support like a rolled-up newspaper or a sturdy object. Use ice packs wrapped in cloth to reduce swelling. It's essential to seek medical attention as soon as possible.
2. Sprains: To help with sprains, you can remember RICE: Rest, Ice, Compression, and Elevation. Here's what you can do: Make sure they take it easy and do not put weight on the hurt joint. Giving it a break helps it heal. Put a cloth around an ice pack and place it on the sore area. This eases pain and reduces swelling by cooling things down. Gently wrap the sore spot with an elastic bandage. It helps control swelling and offers support. If they can, lift the injured part above the heart. This lowers swelling by letting fluids drain away from the area.
Just remember, if the pain or swelling keeps going, seeing a doctor's a good idea. And while first aid can help with fractures and sprains, getting proper medical care is essential to treat these injuries correctly.
Recognizing and responding to medical emergencies
Medical emergencies can range from heart attacks and strokes to allergic reactions and seizures. Awareness of these emergency signs and symptoms is essential to provide immediate care. Here are some common medical situations and how to handle them.
First aid for choking and CPR
Choking is a serious situation that needs to be managed immediately. To administer first aid when a person is choking, follow these instructions.
1. Conscious choking: Perform the Heimlich maneuver on a conscious adult or child who is choking by standing behind them, putting your arms around their waist, and giving upward abdominal thrusts. If the patient cannot speak, cough, or breathe, continue the Heimlich maneuver until the object is dislodged or professional help arrives.
2. Unconscious choking: If someone loses consciousness, gently lay them on the ground. Start performing CPR. First, tilt their head to open the airway, check for signs of breathing, and provide rescue breaths if needed. If you cannot give rescue breaths, focus on chest compressions instead. Continue performing CPR until professional assistance arrives.
CPR, short for resuscitation, is a technique that can save lives by combining chest compressions and rescue breaths. It helps maintain blood circulation and oxygen supply until trained medical professionals arrive.
Basic first aid kit essentials
It is crucial to have an equipped aid kit to provide immediate assistance during emergencies. Here are a few essential items that you should include in your aid kit.
1. Different sizes of bandages
2. Sterilized gauze pads
3. Adhesive tape
4. Cleansing wipes to prevent infection
5. Disposable Gloves
6. Cutting tools and tweezers
7. Cold packs, down injuries
8. Pain reliever
9. CPR mask
10. Contact details for emergencies
Inspecting and restocking your aid kit is crucial to ensure that all the supplies are up to date-and in good shape. Also, consider adding any medicines or specific items based on your family or workplace requirements.
First aid training and certifications
While this guide offers information to assist you in handling emergencies, obtaining formal training and certifications in first aid is highly recommended. First aid courses provide skills and knowledge that are crucial during emergencies. These courses tackle various subjects, such as CPR, wound care, and more. By completing an aid course, you'll gain the confidence and expertise to respond to different emergencies.
Some organizations provide first aid training and certifications, such as the American Red Cross and the American Heart Association. You can inquire at community centers, hospitals, or healthcare providers to discover the available courses in your area. It's important to remember to renew your certifications to stay informed about the current techniques and guidelines.
Conclusion
Congratulations on finishing the beginner's guide to first aid! With the knowledge and skills you've acquired, you're now better equipped to handle emergencies and possibly even save lives. It's important to remember that first aid involves taking action and offering assistance until professional help arrives. By following the principles, methods, and recommendations provided in this guide, you can truly make an impact in emergencies. Stay vigilant, stay informed, and always prioritize the safety and well-being of yourself and those around you.