Few careers are as rewarding as nursing. Caring for patients on their worst (or sometimes best) days is meaningful work, and nursing offers exceptional job stability. Nurses are in high demand, thanks to the ongoing nurse shortage in the U.S., so, if you choose to enter the field, you'll have no trouble finding a job. Registered nurses are especially vital in the healthcare field. If you are interested in a career that's both challenging and rewarding, becoming one may be an excellent choice.
As a registered nurse (RN), you'll directly impact patient care and outcomes. You'll also earn a living wage and have opportunities for growth and ongoing education. Whether you recently finished high school, work in healthcare as an aide or a licensed practical nurse (LPN) or want to change career paths, becoming an RN could be right for you. Unfortunately, doing so requires a bit more than shopping for medical scrubs and going to work. You'll have to earn a degree and pass the NCLEX-RN to obtain your license.
Not sure where to start? We've got you covered! Keep reading to learn how to become a registered nurse.
1)- Earn Your Nursing Degree
Enrolling in an accredited institution is the first step to becoming an RN. Dedicate some time to researching nursing schools and programs to find the one that's most suitable for you. Not sure where to start? Check out this resource from NurseJournal to learn how to choose a nursing program.
Depending on your location, you may only need to earn an associate's degree in nursing to start practicing. However, a Bachelor of Science in Nursing degree is required in many states, and the number of states with this requirement is growing. Also, individual employers may require new hires to have BSN degrees regardless of state regulations. BSN holders tend to earn higher wages too.
Upon starting school, you'll need to complete prerequisite courses in math, science, etc. Psychology, anatomy, physiology and biology are a few of the most common prerequisites. You'll need to earn at least a "C" in these courses to remain eligible for a nursing degree.
Once you have successfully completed your prerequisites, you'll get to participate in more hands-on learning. The best nursing programs emphasize clinical experience and offer classes taught by nursing professionals.
There are a few different options for earning your degree. Enrolling in a traditional four-year BSN program is typically the best option for new college students. If you already have an associate's degree in nursing, you may be able to earn your BSN in 12 to 14 months by completing an RN-to-BSN program. There are also accelerated nursing programs for people who have earned bachelor's degrees in non-nursing fields. These programs can be completed in under 24 months.
2)- Pass the NCLEX-RN Exam
Earning your degree is just one component of becoming a registered nurse. You also need to pass the NCLEX-RN exam in order to obtain your state license. This test is designed to ensure you are prepared for the job by assessing your knowledge of key components of the nursing field. Generally, you can apply for licensure and register for the NCLEX-RN roughly six weeks before graduation.
The NCLEX-RN exam is a computerized test, and applicants must complete a minimum of 75 questions. It lasts up to six hours, but many testers finish early. While most of the questions are multiple-choice, there are also drag-and-drop, fill-in-the-blank and "hot spot" questions.
3)- Obtain State Licensure
After passing the NCLEX, you'll need to obtain a nursing license for the state in which you plan to practice. If you live in close proximity to other states or want to have the freedom to work in multiple states, you'll need a license for each state in most cases. Some states honor licenses from certain other jurisdictions, though. Each state has its own requirements, so check with the appropriate state nursing board to find out what you need to do to legally practice in a specific area.
4)- Find a Job
Once you've earned your degree and obtained the appropriate license(s), it's time to find a job. Many nursing schools help with job placement, so take advantage of this if it is available to you. With nurses in high demand, there are also plenty of online job listings. You could also connect with a nursing staffing agency if you need some help landing your dream job.
5)- Continue Your Education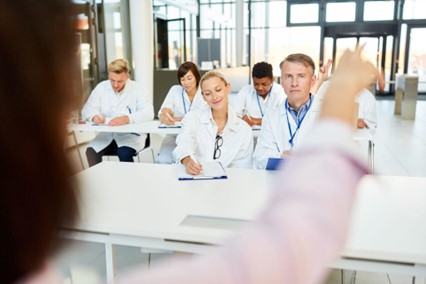 Continuing education (CE) is mandatory for nurses. If you'd like to take your career to the next level, do more than the bare minimum. Work toward earning nursing certifications in fields you enjoy. Pediatrics is a great option if you love working with children. And if you want to make a real difference in the lives of patients during the darkest times of their life, consider earning certifications in oncology or psychology. There are plenty of options to choose from, so follow your passion.
Consider pursuing an advanced degree, like your master's degree in nursing (MSN) or Doctorate of Nursing Practice (DNP). In addition to opening up opportunities like becoming a nurse practitioner or clinical nurse leader, these degrees often come with a substantial pay increase. The more you learn, the more valuable you are to the healthcare system.
Closing Thoughts
If you're ready to embark on a rewarding and lucrative career, start researching nursing programs today. This is an exciting time, and you should be proud of yourself for beginning this journey. As an RN, you'll get to make a direct, lasting impact on patients, and you'll have opportunities to learn new things just about every day. Plus, you'll get to wear stylish scrub jackets for women and comfy scrubs while you're on the clock instead of an uncomfortable uniform. Take the first step now and, before you know it, you'll be working in the fast-paced healthcare industry.